So while I may have gone dark for a little while, it was for (mostly) a good reason. During the first few weeks of August I was blessed to be able to volunteer at the Melbourne International Film Festival for the first time. Over the course of about fifteen days I saw thirty four different screenings – thirty two different films, one selection of shorts and one repeated screening just because. So I thought instead of writing way too many reviews while also balancing writing a thesis and several other essays (hence why I've been off the radar) I thought I would finally collate some brief thoughts about each one here in the order I saw them.
A surprisingly touching and appropriately reverent look at one of Australia's biggest sporting icons. With more dry wit and Aussie larikinism than you can chuck a dropbear at, Wayne doesn't go for the hard knocks but is still an easy recommend to even fans not familiar with with Gardner himself.
Overall: Highly Recommended
What in the name of Nick Cage himself did I just watch.
I didn't think it'd be possible for Cage to find a film to rival his insanity, but here it is in the form of Mandy – a heavy metal and psychedelic fuelled nightmare trip into the seven circles of Hell itself. Its certainly for the most acquired of tastes, but for those who seek out and find this particular brand of satanist-killing-slaughter this is a movie to go down in the Cage-related history books.
Overall: Highly Recommended
Not being satisfied with being one of the best working actors alive, Paul Dano with Wildlife has set his sights on adding 'best director' to that description. In an incredibly assured directorial debut, Dano weaves a story that explores the disruption of the classic nuclear family in a way that's as heartbreaking as it is real. Anchored by great performances by the core three (particularly Carey Mulligan), Wildlife is sure to set hearts ablaze and (hopefully) award ceremonies too.
Overall: Highly Recommended
It would have been so easy to build a documentary around mocking this Flat Earth movement for the bizarre, irrational logic at its core, but thankfully 'Behind the Curve' goes so much further than that. Instead its a brilliant, insightful and surprisingly considerate doco that hopes for people to gain some understanding for the people and logic that give a movement like this momentum around the globe.
Overall: Must-see
With the raw authenticity of cinema's best documentaries and the deep tragedy of its dramas, The Rider is a rich and layered look at America's heartland. While it lacks subtly at times and doesn't present anything fresh plot-wise, the performances and sense of reality it conveys is well worth any cloven missteps.
Overall: Must-see
Besides a frustrating narration that intrudes more than it expounds, this is a film that wraps up the war paranoia purgatory of a World War 2 novel with a layered approach to contemporary politics and settings in order to construct a story that's part Casablanca and part slow-burn political thriller.
Overall: Recommended
I had no idea that Lynne Ramsay's follow-up to 'We Need to Talk About Kevin' would be just as good if not better. A Taxi Driver for the modern age without a moment of hesitation and uncertainty in the entire film, Ramsay has constructed a lean, mean and terrifying rendition of a suicidal hit-man trying to save a young girl, with a compelling lead character stunningly brought to life by Phoenix in all his brilliant eccentricities.
Overall: Must-see
A distinct animated style, if occasionally disorienting, weaves this beautiful telling of the classic Brother's Grimm fairytale. While it doesn't add anything new to the story beyond its style, this is still an artistic if simple recreation of the original fable.
Overall: Recommended
A blending of animation, documentarian and autobiographical style, 'Chris the Swiss' is definitely unique. While muddled and the genres don't mix as well as they could, its still an interesting story told in an interesting way so its hard to be that harsh on the final product.
Overall: Recommended
While it does fall into the neorealist trap of 'look at how everything sucks for two hours', Capernaum is still a wrenching emotional journey of a kid reaching the conclusion that he and many other kids would be better off if they were never born. With non-professional actors, an intensely cluttered direction and a strong emotional throughline, this is not an easy watch but it is a worthwhile one.
Overall: Highly Recommended
Despite its plot being a bit rough around the edges, 'Undertow' is still a deft moodpiece of a directorial debut. Based around the horror and emotional trauma of childbirth and centred around a truly impressive lead performance in Laura Gordon this is a solid Geelong-based thriller that sets up Miranda Nation as someone worth paying attention to.
Overall: Recommended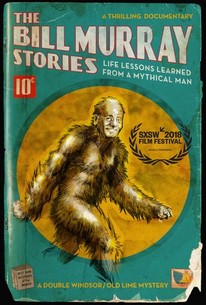 Manages to make a sweet, wholesome and wonderfully entertaining documentary without the input of the titular man himself. Instead all we have is the stories surrounding the myth/legend of Murray told from the people who met him in the strangest circumstances, stories that provide a surprisingly sincere and insightful message not only about the man himself, but also about how he sets the example for an impromptu and spontaneous life.
Overall: Must-see
Despite an extremely simplistic story and themes, 'The Merger' succeeds on complete and utter charm. Continuing the mould set by 'The Castle' so many decades ago, this is a hilarious, extremely likeable film with a sweet message at its core and the Aussie spirit on its mind.
Overall: Highly Recommended
This is a tough one.
On one hand I admire the sheer, unadulterated audacity of the film – from the visuals to the music to the ambition of the film's ideas, this is a truly memorable work.
But on the other hand it takes far too long to get to its title, is extreme to the point of it being almost sickening and belabours its point harder than a Greenpeace supporter at a coal mine.
Ultimately, its a film I'm going to remember and think about for a long time. But I never want to see it again.
Overall: Recommended
An animated documentary that pulsates with the violent energy one must feel to be a journalist in a war zone. While its melodrama feels a little forced next to the horrors of war its depicting, 'Another Day of Life' is still a visually stellar and stirring portrayal of one journalist's experiences amidst the Angolan Civil War and his desperate desire to tell the stories of the people he met along the way. Note: This is also the only film I saw twice throughout the festival.
Overall: Highly Recommended
In attempting to deconstruct the scenes cut by the Australian Censorship board over the course of a decade into an hour-long film, creator Braithwaite has an interesting premise on her hands but ends up with little more than a pseudo-intellectual YouTube montage. While trying to wax poetic regarding the trends seen on-screen and the nature of censorship, the film instead offers little more than cursory examinations and doesn't allow for the context or the greater discussion that could have really made this idea compelling.
Overall: Not Recommended
A fantastical comedy that isn't funny or fantastical enough, 'Diamantino' instead ends up as a weirdly middling final product for such a bizarre film. Beyond the infantile soccer player who imagines dogs to kick goals and all the random events that befalls him, this is a surprisingly dull film that still gets the occasional laugh but not enough to be actually worth recommending.
Overall: Meh
A curious documentary of both amusing and sad proportions, actor Gustavo Salmerón brings the audience into his bizarre family situation. At its centre is Matriarch Julita, a woman who once dreamed of having lost of kids, a monkey and a castle, with Salmerón exploring the ways in which she both achieves this and subsequently loses it all in the Spanish financial crisis.
Overall: Recommended
A solid, compelling and well-acted drama that explores the genius of a young boy and his teacher desperately trying to drag herself out of a life of mediocrity.
Overall: Highly Recommended
Easily my biggest disappointment of MIFF. I went in expecting a Ghibli-esque film and came away with some nice visuals but sadly not much else. Rushed, distracted with very little characterisation and a poor establishment of basic story elements, 'Big Fish' was clearly a passion project from animators, but definitely not storytellers.
Overall: Not Recommended
A witty and amusingly earnest Mexican Heist film that may succeed in the script, but struggles on the odd occasion through its direction.
Overall: Recommended
Director Mamoru Hosoda is back to do was he does best: make perfectly fine movies about family that tug on the heart strings a little bit, and Mirai is no different. Its sweet innocent, has some cute visuals and a nice message, but Hosoda is still yet to come close to the heights reached by the other Japanese animated films he is clearly drawing inspiration from.
Overall: Recommended
A tightly constructed and wildly entertaining heist film with a documentarian twist. While the plot is a little conventionally structured and the documentary elements don't go far enough, its still a fascinating tale of four students desperate to be bigger than they are.
Overall: Highly Recommended
For someone who knows nothing nor understands contemporary hip-hop, 'M.I.A.' does nothing to change that. But what it does do is provide an interesting snapshot of a popular figure trapped between competing identities and roles, a sign that while this may not be my field, this documentary still succeeded in some way.
Overall: Recommended
Centred around an unsubtle but still effective metaphor, 'Island of the Hungry Ghosts' is less of a documentary and more of a meditative mood piece. And a mood piece of considerable craft as well. With both stark and lush cinematography, an enthralling score and a tone that balances between calming and quietly confronting 'Island' provides as much food for thought as it has crabs in its scenery.
Overall: Highly Recommended
A thriller that tries to be as layered as it is compelling and doesn't quite succeed at either. While it boasts a strong lead performance, some slick sound design (when its properly used) and curious allegories, this is an action film that feels too stagnant for its own good.
Overall: Meh
Not sure how I went from knowing nothing about Mr. Rogers to crying my eyes out over him less than two hours later. While definitely designed for someone with a basic knowledge of his career, 'Neighbour' succeeds through its complete and utter earnestness in portraying the character and morality of its focus, and ultimately leaves this grand doco as a call for us to continue his legacy.
Overall: Must-see
While Pawlikowski's distinct style lends itself more to a Nun discovering her history (i.e. his previous film) than to a musical romance (i.e. this film), 'Cold War' is still a beautiful and highly detailed ode to love in the time of tragedy and control.
Overall: Highly Recommended
An incredibly specific and highly constructed portrayal of an extremely complex and compelling Priest, aside from a few clunky moments 'First Reformed' is a powerhouse of detailed direction and a showcase of potentially Ethan Hawke's greatest performance to date.
Overall: Highly Recommended
Aside from some fairly obnoxious direction, 'People's Republic of Desire' is a compelling and fascinatingly disturbing look at the live streaming culture taking route in China.
Overall: Highly Recommended
While hammy, there's no denying that 'Searching' is also fantastically entertaining. A thriller take on the recent trend of 'film that takes place only on computer screens', it may amp it up for the webcams a little bit but there's no denying its also a surprisingly compelling and emotive experience.
Overall: Highly Recommended
A little unfocused and meandering, Zhangke's latest isn't one of go down as his best, even if his classic commentary of a changing China and soulful sequences saves it from the ashcloud of its own making.
Overall: Meh
So that was two exhausting but deeply satisfying weeks of my life well spent. I aspire to beat my record next year. Send help.